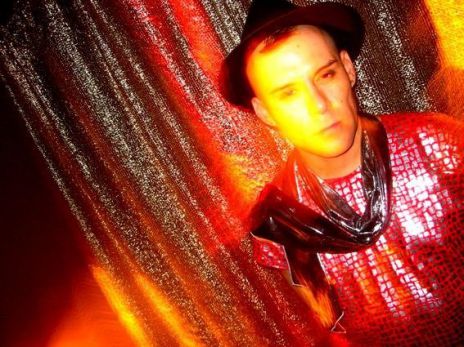 "10 canciones con las que me hice Subterránea"
A radio tribute to our loved friend Cocó, a true artists that we will never forget, who passed away two years ago.
Broadcasted the 3rd october in Radio ALKOMERZ @ Twen.fm – 88.4 (Berlin). http://twenfm.org. Feauturing Cala, Simone, LINCE, Nada, Josephine, Franz and Reimo, reading an original text writed by Cocó called "Ten songs that made me Subterranean".
You can read the Spanish text HERE.
English text below. (English traslation by Norah D.)
Tanhks to all the friends and fans out there.
Radio ALKOMERZ presents "Radio Tribute to Cocó" by ALKOMERZ


"Ten songs that made me Subterranean" (Lima 1982-1988). By Cocó.
(Subterraneans/ David Bowie)
Share bride failing star / 
Care-line
 / Care-line
 / Care-line / 
Care-line / driving me / 
Shirley, Shirley, Shirley own / 
Share bride failing star
(Grauzone: Eisbar)
I remember the subterranean scene was very atractive for someone like me, and it had more to do with the kind of energy it irradiated than with the music. I obviously had other referents, closer to new romantics and after punk, a kind of music I had been listening to since I was 13 years old on alternative radio stations in Lima. I was not into the kind of protest punk that these other bands were playing. There really were many things worth protesting at the time, but I was looking for something else. Maybe I was trying to build an alternate reality instead of screaming out loud words.
(Visage: Fade To Grey)
It's not that I wasn't angry enough, quite the opposite. I think that merely entering this subterranean scene meant a lot for someone like me, someone that wasn't familiar with the streets and had never set a foot on certain neighbourhoods where these concerts took place. I was 15 or 16 years old because I remember I hadn't yet finished school when I became interested in all of this, and I was disapointed at first because the music was too harsh for me. But I liked the people.
(Human League: The things that dreams are made of)
Before that I had already tried forming a band with some friends from school but it was more daydreaming than music. "Genetica Gotica" was the name of one of those experiments, and it was also my first attempt at playing at the No Helden venue. I became friends with Paul Hurtado, the manager of this club and also of No Disco, the only new wave discos in Lima. I remember on Fridays, after school, I would rush home to dress up and put on my make up and I would go to No Helden. I think Paul was astonished and pleased that someone so young was showing so much interest in the New Wave and we became close friends.
(Echo and the bunnymen: Rescue)
In No Helden I met Kilowatt (a subterranean legend) and he invited me to some subterranean concerts. Then I entered University, first in Lima, then San Martin and San Marcos, and around that time I started getting deeper into the whole thing. I had two intense years when I met many people who showed as much enthusiams as I did for being part of something new. When a subterranen concert was featured on TV, with pogo dancing and shocking interviews, the number of followers increased drastically. I became friends with all the members of the band Leucemia from the early years. I loved the noise-and-repetiton project Kimba had, Los Indeseables, very influenced by PIL and other afterpunks. I also liked Zcuela Crrada for their lirical inclination, which set them appart from other bands.
(The Cure: Griding Halt)
I don't know how it happened, but suddenly I found myself in a sort of of afterunk project with Carlos magan "Bowie", we wrote a few songs that another band would later appropriate. At some point I became friends with Hoover and after that with Támira, instantaneously, and created a seed called Salón Dadá, which would later become Col Corazón. We did nothing but talk about music and dream… we spent whole afternoons making cadavre exquis (surrealist poems) and we created our own world. Eventually they contacted a girl who played guitar and they developed Salón Dadá: Hoover, Támira and "that girl". Parties and frequent concerts contributed to the subte movement's strong identity. I alternated between No Helden, where I danced and listen to afterpunk music, and endless wanderings around the city in groups, shocking people with our look. I loved showing my androginous half-shaved head in their company. A street stand selling demos and fanzines on the steps of Villareal University was our meeting point.
(Velvet Underground: Venus in Furs)
I was very interested in street cross-dressers and other crazy things, which made it difficult for others to take me seriously as part of a band, for I had become an elusive nocturnal figure. I wasn't afraid of my city or of being different any longer. I found that the Subte movement had become increasingly political and I didn't enjoy spending my time debating about society, and perhaps that's why I descended into the darkened streets of Lima, searching or finding, I don't know.
(Lydia Lunch: Agony is the ecstasy)
Around that time 1986-87 I had decided to be a "freelance perfomer", an I would climb on stage unannounced at any Subterranean avent. I remember specially my appearances at Cocolio theatre and Cabaña theatre, completely out of my mind: I would scream, growl like an animal, I would tear my clothes off and give absurd speeches, over a chaotic guitar noise. It was my way of expressing my difference. The audience would go absolutely crazy. After that, I did similar shows at San marcos University, but making them even more radical: a friend with a saxophone she couldn't play, another friend beating the drums to a martial rhythm and me with a lit candlestick and my voice halfway between opera and completely out of tune! Another time I did something at no Helden with a rhythm box and a microphone and my voice, I don't even remember who was with me on stage, and I think they were as surprised as I was that we were holding the audience's attention with our nihilistic antics. The ones I never forget about are Tamira Basallo (from Col Corazón) and Susi Torres (now a painter). There were my partners in fantasy.
(David bowie: Heroes)
All of this had a bitter side, these were years of too much militancy and suspicion, too many social-status anxieties that resulted in our fellow students at San Marcos University referring to us as "a faction of decadent petites bourgeoises, pseudo intelectuals, poets, frivolous asexuals, etc etc". There were heated quarrels between bands, in fanzines, at concerts. The singer from Vox Propia published a manifest aimed directly at me and my closest circle. My previous friends were now enemies. Maybe here are some of the keys factors that explain why I ended leaving Lima. Just when I thought I had found my own world I realised I was being marginalized once again, that being different was criticized by those who had been enthusiastically rebellious before, by the people that belonged to the Subte movement itself. Some of my other musical projects, all very experimental: : "el Unico Eunuco" (noisy dark tekno pop) with Pedro Santillana, or "Los Huecos" (noise in the style of The Jesus & Mary Chain) with Mario, with whom  I would later form Silvania. I became interested in peruvian 60s New Wave: Yorks, Silvertons, Belkings…
(Cocteau Twins: Aikea Guinea)
Musically, Támira, Susana and i listened to all kinds of things. I think what we loved the most were the Cocteau Twins and the 4AD sound from back then, it elevated us radically out of the harsh reality we were experiencing at the University. But we listened out for anything new. Col Corazón were quite fascinated with Cocteau Twins and I loved dropping by and watching them rehearse. I think they were really marvelous, they achieved an extremely elaborate music with little resources and that is true creativity for me, to overcome material limitations with an abundance of ideas and dedication. In 1998 I left for Europe with a taped rehearsal of Col Corazón, in which I was incidentaly playing the rhythm box. I used to listen to it and remember the denseness of the sky back in Lima.
Glowing Cocó. Photo by Machines Désirantes.