Sozialistische Einheiz Party II. SCHLAMPENBALL
23/08/2010
One, two, and now fall in, you bitches, hustlers, pimps, and backbiters of this washed-up and wily city! We're celebrating the penultimate Montags Bar behind the Temporäre Kunsthalle and are going to have a blast. It's strictly a dance evening with perverse visuals and dresscode: "Ground down / Dirty Glitter". Tease the rest of your spliced hair and put on your long claws! Pump parade! Schlossplatz! March up! – Unshaven.
The first official SCHLAMPENBALL with TRACHT & PRÜGEL (Jeans Team DJs), LINCE (DJ), and MACHINES DÉSIRANTES (Visuals).
Carried out by SEP* (Sozialistische Einheiz Party).
Dresscode: Sexy, Dirty, Cheap…
Montags Bar. Temporäre Kunsthalle Berlin.
Schlossplatz. Berlin. From 10 pm
(http://www.kunsthalle-berlin.com)

Photos by
Adrian Parvulescu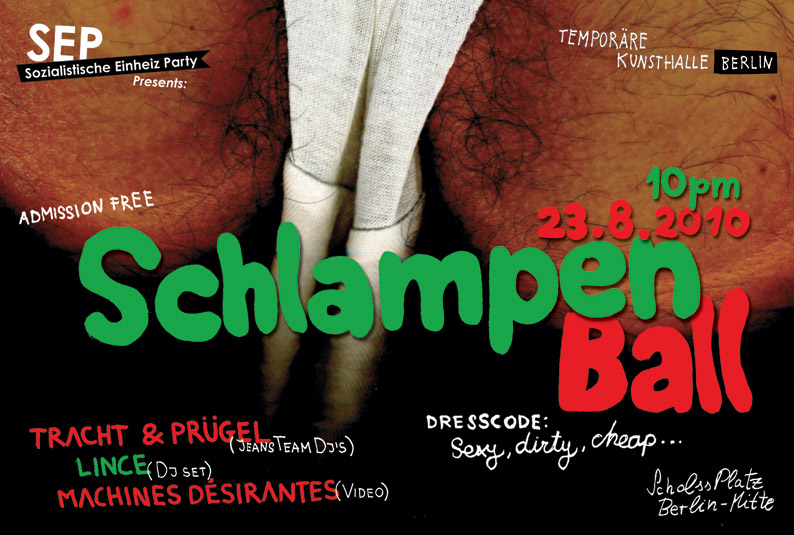 Design by Machines Désirantes
One Response to "Party> Sozialistische Einheiz Party II. SCHLAMPENBALL. 23/08/2010"